Dimsums…yes, gluten-free! Dimsum is an Asian dish, also known as momos, dumplings, gyoza and potstickers. They are made with fillings of various meats, seafood, vegetables/vegan options. This recipe is a healthy gluten-free alternative with no compromise on taste!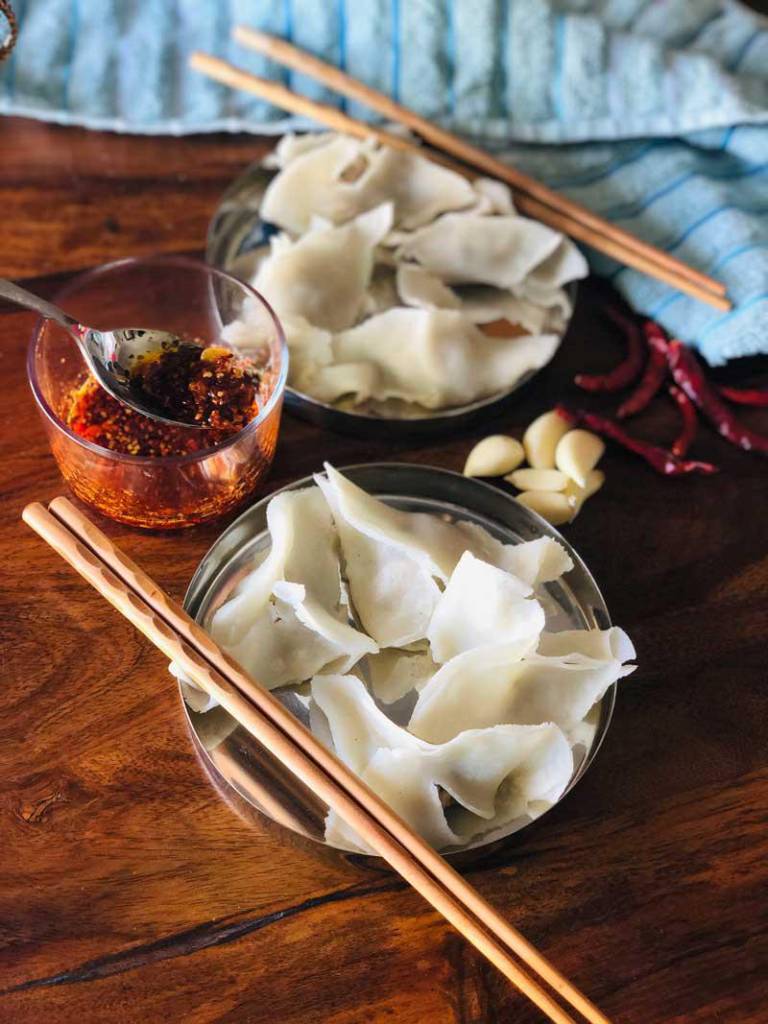 INGREDIENTS: Chicken Fillings
1lb (500gm) minced chicken
1/2 tablespoon butter
2 teaspoons green chilli paste
2 teaspoons finely chopped ginger
2 teaspoons finely chopped garlic
1 cup chopped coriander/parsley/ cilantro
1/2 teaspoon salt, or to taste
1 teaspoon ground pepper
1/2 cup arrowroot/tapioca powder
1/2 cup rice flour
1 cup water, or as needed to make soft dough
8 to 10 red chillies
1/2 cup cold-pressed neutral oil
2 small cloves of garlic
Combine all the ingredients mentioned under 'for chicken filling'
In a bowl of boiling water, add rice flour and arrowroot powder. While mixing continuously, allow it to cook on low flame for about 2 mins
Turn off the flame and continue to mix, until it is warm to touch. Knead the dough well for 5 mins. Ensure it is soft with no cracks. If slightly hard add a wee bit of warm water and knead
While the dough is still warm, cut into equal sized pieces. Dough needs no resting
Quickly role the dough with dry rice flour, while it is still warm. It should be slightly thick in the centre (to hold the filling) and thin on the edges
Cut rolled sheet with a cookie cutter/lid for uniform size (optional), and cover it with a cloth to retain the heat
As both rice flour and arrowroot powder do not contain gluten, these wrappers have to be shaped right after kneading and rolling, or they become dry and break – this is the most important step. Place a spoon of filling at the center of the wrapper as shown above
Shape it as you fancy, I have shown an easy one above
Steam immediately, with a drop of oil at the base, for about 10-13 mins
For the chili oil, dry roast red chillies in a pan for 2-3 mins or until you get an aroma. Cool it and grind to make chili flakes
Heat any neutral cold-pressed oil for a few minutes
Switch the flame off and pour the hot oil over the crushed red chillies & throw in chopped garlic (optional) for extra flavor
The chili flakes will sizzle right away when oil is poured over it
Serve hot! These are meant to be eaten immediately…(re-heating is not recommended).