A simple one pot bone broth/soup with just a few ingredients. This recipe has subtle flavors. Bone broth is high in collagen, which is rich in anti-oxidants and minerals. This tasty soup is a miracle potion, a gut healer with umpteen benefits!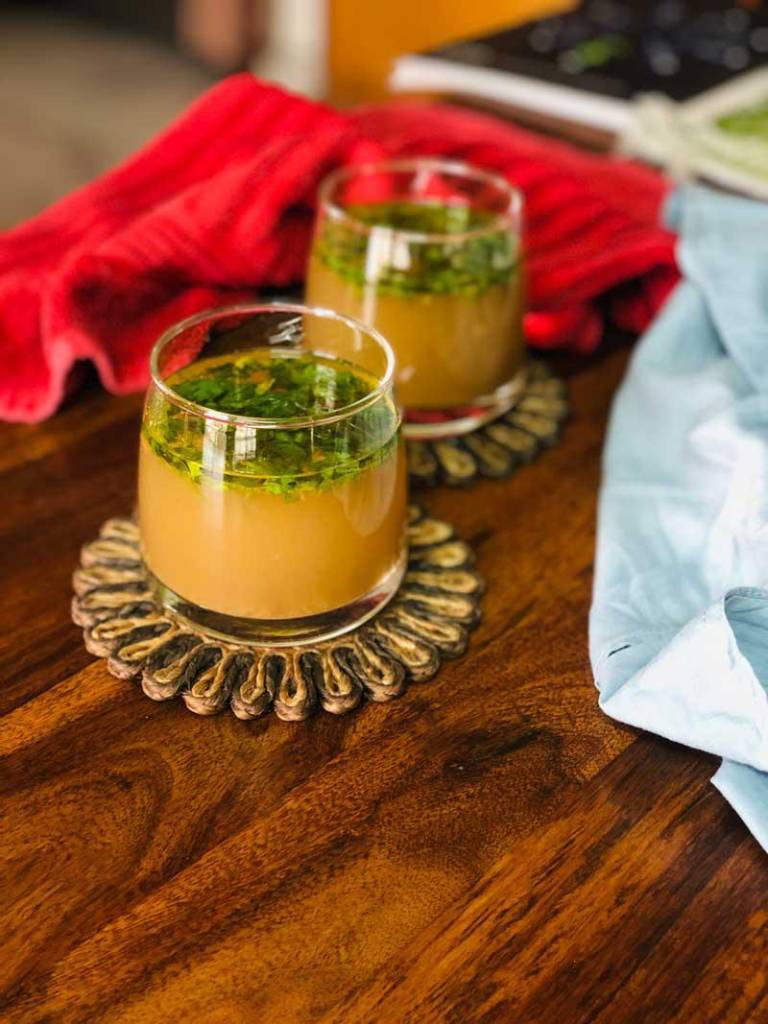 Soy free, gluten free, corn free, dairy free, nut free.
1 lb (1/2kg) mutton bones (organic & grass-fed)
1 tablespoon ginger & garlic paste (GG paste is a must have for Indian cooking. It is very easy to make. Simply grind equal quantity of chopped ginger and chopped garlic with a pinch of salt and turmeric. Store in the refrigerator for regular use)
1 teaspoon turmeric powder
1 teaspoon coarsely ground pepper, or to taste
2 teaspoon salt, or to taste
Whole Garam Masala – 6 cloves, 4 cardamom, 2-3 one-inch cinnamon sticks, 3 bay leaves (Or use 1 teaspoon ground garam masala)
1/2 bunch coriander (cilantro), roughly chopped
2 teaspoon lemon or organic apple cider vinegar (with mother)
1 tablespoon melted ghee or coconut oil
2 Liters (67 Fl Oz) water
Add a tablespoon of oil in a heated pressure pan/pressure cooker/instant pot. Add whole spices: 6 cloves, 4 cardamom, 2-3 cinnamon sticks or just add garam masala powder and let it splutter on low to medium flame
1 tablespoon of ginger & garlic paste and 1 teaspoon of turmeric powder
Mix well and cook until the ginger & garlic paste blends into the onion and the raw flavor goes away
Next, add 1 lb mutton bones and mix well & let it cook for about 5 minutes on medium to high flame
Add 1 teaspoon coarsely ground pepper, 2 teaspoon salt, or to taste and 2 teaspoon lemon or organic apple cider vinegar (with mother). Mix well and allow it to cook for 2 minutes on medium flame
Add 2 liters of water. Mix well to combine all ingredients. Cover it and pressure cook on medium flame for about 1.5 to 2 hours until the bones are chewy
Remove the lid once the steam goes down. Notice that the soup has reduced by about ½ a liter (16 Fl Oz), add a bunch of roughly chopped coriander/cilantro
Strain the bones and serve the soup hot with a dash of lime (optional)
Add black pepper as per your spice tolerance
The soup can be made with bones of your choice (organic and grass-fed)
Add either whole spices or garam masala powder
Recommended to cook in a pressure pan/cooker/instant pot to save on cooking time
The strained soup can be stored in the refrigerator for a week or in the freezer for longer
When stored in the refrigerator the soup gelatinizes, due to the presence of Collagen. This is normal. Enjoy this nourishing bowl of soup served piping hot!