Hyderabad is the capital city of Telangana in India. In the regional language Telugu, Bokkalu (bones) Rasam (broth or soup) literally translates to bone broth/soup. This dish, typically made with lamb (mutton) bones is very flavorful. This is a miracle potion, a gut healer with umpteen benefits!
Who said healthy is not tasty? ?
For a simpler version of this bone broth, check out our Easy Bone Broth/Soup recipe.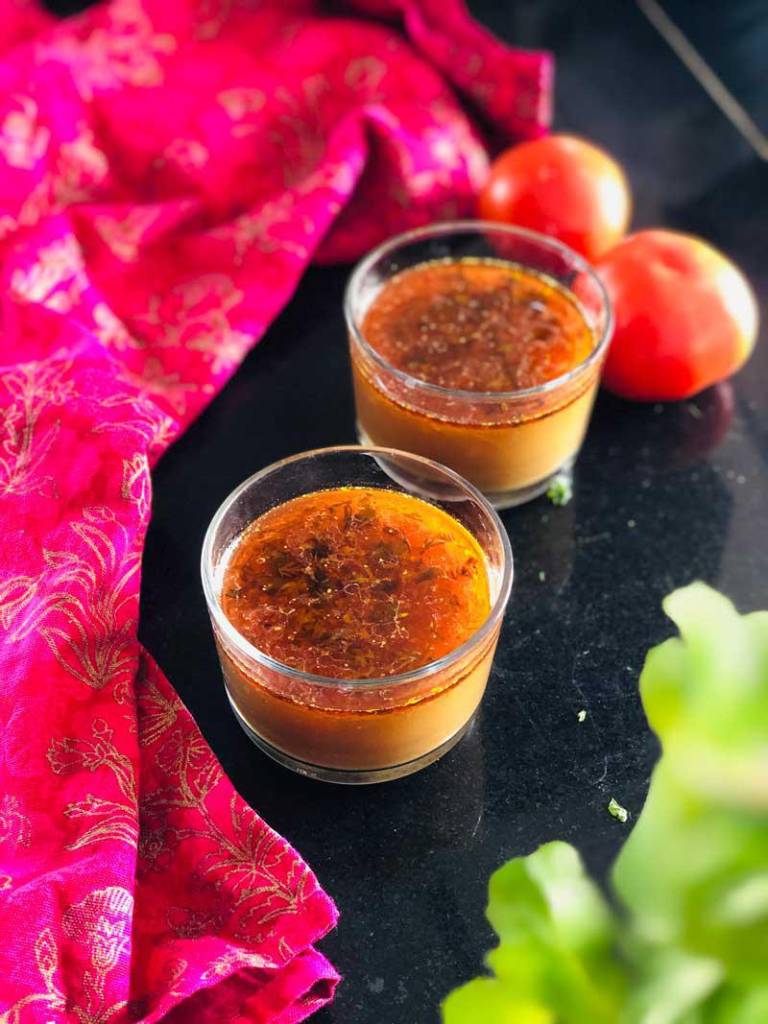 Soy free, gluten free, corn free, dairy free, nut free.
INGREDIENTS: Chicken Fillings
1 lb (1/2kg) mutton bones (organic & grass-fed)
1 tablespoon ginger & garlic paste (GG paste is a must have for Indian cooking. It is very easy to make. Simply grind equal quantity of chopped ginger and chopped garlic with a pinch of salt and turmeric. Store in the refrigerator for regular use)
1 teaspoon red chilli powder/paprika (optional)
1 teaspoon turmeric powder
1 teaspoon coriander (cilantro) seed powder
½ teaspoon cumin powder
½ teaspoon coarsely ground pepper
2 teaspoon salt, or to taste
Whole Garam Masala – 6 cloves, 4 cardamom, 2-3 one-inch cinnamon sticks (Or use 1 teaspoon ground garam masala)
1 teaspoon caraway seeds (shah jeera)
10-15 curry leaves
2-3 medium – sized tomatoes
1 bunch mint leaves (about 10 stalks), roughly chopped
1/2 bunch coriander (cilantro), roughly chopped
2 green chilies (optional)
1 large onion, roughly chopped
1 tablespoon melted ghee or coconut oil
2 Liters (67 Fl Oz) water
Add a tablespoon of oil in a heated pressure pan/pressure cooker/instant pot. Add 1 teaspoon of caraway seeds (shah jeera) whole spices: 6 cloves, 4 cardamom, 2-3 cinnamon sticks or just add garam masala powder and let it splutter on low to medium flame
Add the chopped onion, 2 slit green chillies (optional) and curry leaves
When the onions are lightly brown, add 1 tablespoon of ginger & garlic paste and 1 teaspoon of turmeric powder
Mix well and cook until the ginger & garlic paste blends into the onion and the raw flavor goes away
Next, add 1 lb mutton bones and mix well & let it cook for about 5 minutes on medium to high flame
Add 2-3 medium-sized chopped tomatoes & 1 bunch chopped mint leaves and mix well for 2 minutes on medium flame
Add ½ to 1 teaspoon red chili powder/paprika (optional), 1 teaspoon coriander seed powder, ½ teaspoon cumin powder, ½ teaspoon coarsely ground pepper, 2 teaspoon salt, or to taste. Mix well and allow it to cook for 2 minutes on medium flame
Add 2 liters of water. Mix well to combine all ingredients. Cover it and pressure cook on medium flame for about 1.5 to 2 hours until the bones are chewy.
Remove the lid once the steam goes down. Notice that the soup has reduced by about ½ a liter (16 Fl Oz), add a bunch of roughly chopped coriander/cilantro
Strain the bones and serve the soup hot with a dash of lime (optional)